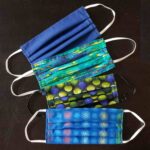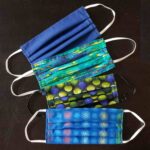 Masks are made from woven cotton / cotton-blend fabrics with 1/4″ wide elastic ear loops in the basic 3 fold/4 section accordion fold style. Each mask is made with 2 layers of fabric.
Smaller adult size:  approx. 8″ x 6″
Larger adult size 8 1/2″ x 6 1/2″ 
Child sizes are smaller, and depend on the size of the child.
Masks are made to order, therefore, custom sizing; pocket opening for filter; and additional nose bridge strips are available. 
Price Per Mask is $10*. (*Does NOT include any shipping costs.) 
To order: Contact me Sharon@sebrow.net with your fabric choices, noted by item number found on the fabric image. I will answer all questions regarding how to order directly with you. NO PAYMENTS ARE MADE THROUGH MY WEBSITE.
(There is a limited amount of some styles. I will do my best to keep the website current with availability. I apologize in advance if the fabric you like is unavailable.)
A percentage of proceeds from the sale of masks will go to families who have been affected by Covid-19 financially.
Assorted Novelty Fabric themes