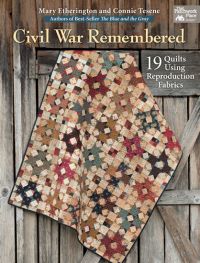 There is something about a Civil War reproduction quilt that brings me to thinking about quilting as a necessity rather than the relaxing luxury we have today in our quilt making. There is still the opportunity for community gatherings and charities with our quilting, but, let's face it, many of us are enjoying our quilt making in the privacy of our homes.
Mary and Connie bring us 19 classically styled Civil War era quilts with clear, full-color illustrations and complete cutting instructions, allowing you to choose to piece your top together by machine or by hand.
If you've ever made a scrappy quilt, you know that balance of color without losing the visual pattern of the piecing is not a simple task. They used the many bright and subdued colors of the reproduction fabrics so successfully, they make it look easy.