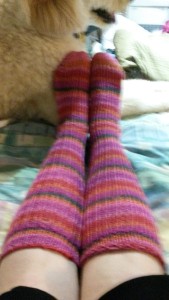 I have loved knitting socks, but hate wearing them because they never stay up. I've done cuff down and toe up (though, I prefer from the toe up). Either way, they still don't stay up, so I don't knit them very often anymore.
It's not an issue of elastic cast on or bind offs. That just helps to be sure they stretch enough to go over my foot and calf.
This last pair I made I really wanted to use. I worked my way up from the toe. When I got to the cuff, I used the K1,Sl1, super stretchy stitch often used at the heel flap. I worked about an inch of it at the cuff and bound off with a typical "elastic BO". Totally did the trick!
Now I've got my knee high cashmere socks that I can wear comfortably.
I used a self striping yarn, and was super careful with starting both socks at the exact spot on the color repeat. It was worth the effort and the little bit of yarn that was cut away. I love that my stripes match!