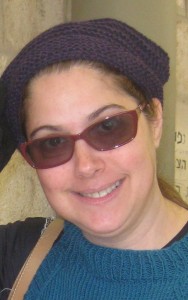 When heading to Israel to visit my son who is studying there for the year, I wanted to be sure that I had a head covering for visiting religious areas.
Of course, I didn't bring one with me, but that was by design. I knew the flights were a total of about 12 hours and there would be airport waiting throughout the journey. Plenty of knitting time.
First, I made sure that I had the airline approved wooden needles, nothing metal was allowed. I even made sure that my darning needle and crochet hook were plastic. I set up my travel goody bag with stitch markers, plastic gauge ruler, plastic stitch holder, etc. Everything but a scissor. (Which, as it turned out, I DID have when I went through security in Switzerland… but that's another story.)
Then I had to decided on the yarn and the pattern. I still have left over from my daughter's cable/braid headband and I also have a wonderful alpaca. Though I feel the alpaca would stick too much to my hair and mess it up when I removed it. So that I reserved for the secondary shawl/scarf, the project I would do AFTER the first was completed.
I chose a very simple idea, a garter ridge headband kerchief. It is a closed ended headband, with a triangular section for the top to cover the hair.
Although the gauge doesn't matter too much here, I used a #5 US needle circular with a gauge of 5 sts / 1″
You could do this on straight needles, but a circular needle helps to hold the many stitches needed for the widest part of the triangle.
CO 3 sts
Row 1: K1, YO, Knit to last stitch, YO, K1
Row 2 : Purl
Row 3: K1, YO, Knit to last stitch, YO, K1
Row 4: Knit
Repeat the previous 4 rows until the Kerchief measures 16″-18″ (depending on the size of your head) from side to side (first stitch to last stitch on the needles).
Work 2″ in garter (knit all rows) without any increasing and seam the 2″ garter section's sides together to close the circle.
(Sorry about the less than wonderful picture. I'll try to get a new one.)